Click on a service to learn more:
Foundation for your business

Distribution Model Consulting:
Fast growth stems from having a clear mission, a focused sales and marketing strategy, a clean database, and a well architected CRM system across the organization. Management has a standard need to assure their sales staff cross sale opportunities, and be able to forecasts sales and review insightful reports and dashboards on a regular basis. The retirement plan market is large and cluttered. To gain share, you need a well-thought-out end-state, a tight plan and an efficient process.
Acceleration One invests in businesses where brand, innovation and world-class execution come together to provide growth and value-creation opportunities. We have worked with many successful large institutions from mutual fund providers to banks and TPA's. Our mission is to work with your management and technology teams that are already in place to bring in a wealth of expertise and a pragmatic approach that defines and delivers a growth and a proven distribution model. Our model will be the foundation for your business for years to come regardless of the changes in your staff or the stock market.
While all of our consulting engagements are 100% customized to the needs of the client, below represents a typical timeline of phases that take place when we work with providers: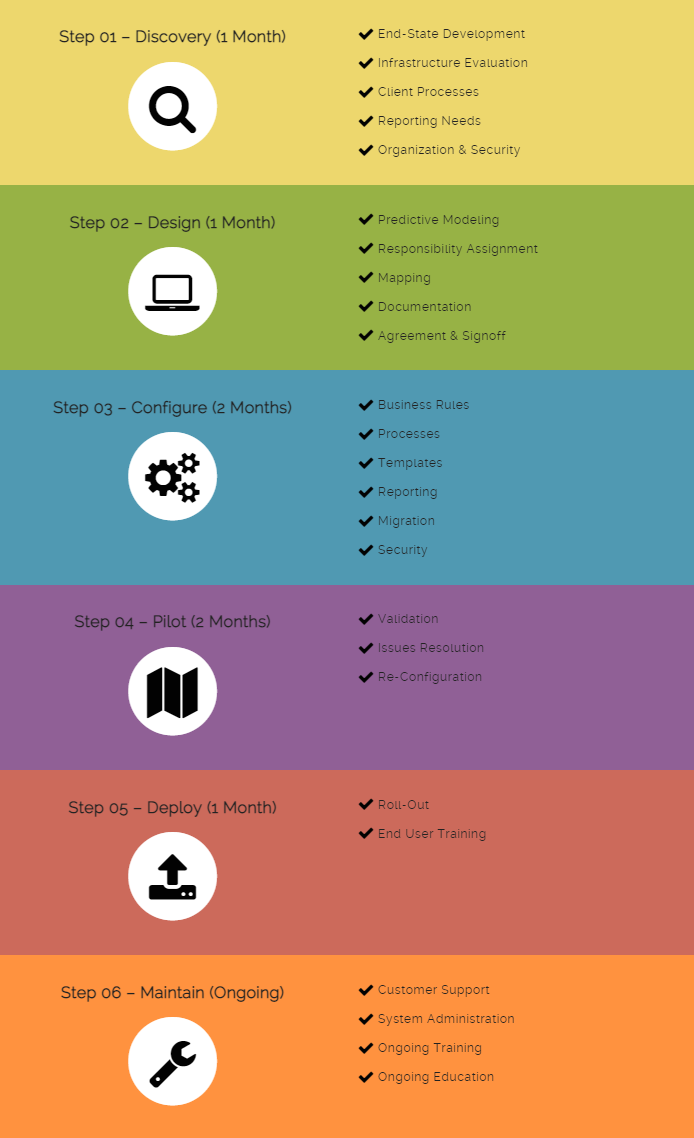 Contact us about our services below:
Internal efficiencies. Organized systems allow for maximum execution.
Your CRM should be the foundation of your business. It is the vehicle that drives your organization and your execution strategy on an ongoing basis. We have found that a number of our larger clients are most concerned with the following functionalities of CRM:
CRM Health Check
CRM Data Cleansing
CRM Alignment to Business Practices
Accurate Forecasting
Roll up Reports & Dashboards
Data Integrity & Security
Simplification for Sales
Automation for Service
Tracking Activity for Marketing
Process Automation
Cross-Sale Opportunities
CRM is often failing to function to capacity at larger firms often because the IT staff is simply overwhelmed with other projects (from other parts of the business). Having a trusted expert from the retirement industry assist with the laundry list of implementation issues is seen as a positive breath of fresh air. Maximum efficiency is created by owning clean data, easy to access reports, simple to read dashboards, and an intelligently designed process that allows your entire organization to communicate effectively, and bring in more business in an accelerated timeframe.
Acceleration One has a staff internally with an expertise in many different CRM systems, and specializes in working with the following: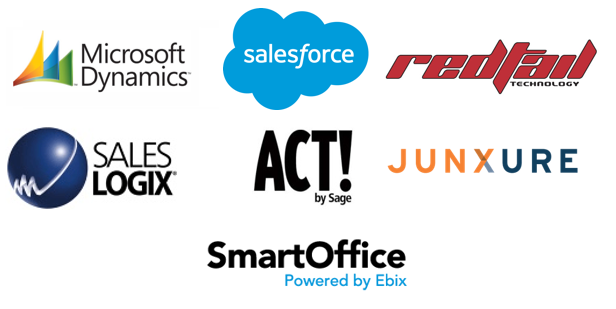 Contact us about our services below:
Clean & accurate non public data = competitive advantage
This business is not about chasing a lot of prospects; it's about chasing the right ones. While everyone else was using the same stale public data, we leveraged our knowledge from 25+ years of spearheading lead generation at Fidelity and our current business, and built the best prospect database in the country.
After spending many years on the corporate side of high volume 401k sales, we have a wealth of knowledge and understanding the importance of gathering non -public data regarding ADVISORS and PLAN SPONSORS in the employee benefits business.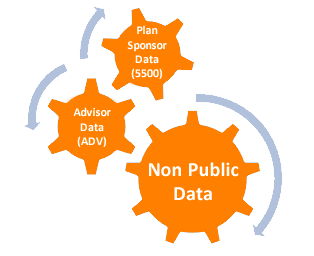 Key database services provided:
Plan Sponsor Data – We can use our proprietary database to create an accurate list of prospects and contacts (with emails) to utilize for marketing to more effectively acquire new business.
Advisor Data – We have over 400,000 unique advisor records in our system to include RIA's and Dually Registered Reps. Since 2009, we have made thousands of phone calls to this database, asking a number of valuable profiling questions. Each day, we gain a better understanding of which 40,000 have plans, which 4,000 have more than 5 plans, and which 400 have more than 40 plans.
Predictive Modeling – We use information from your client base or end-state consult to perform ideal client modeling. We then utilize a 15-step matching algorithm with that information throughout our database which will provide us with a foundational score on each record to identify which plans or advisors that are the best fit.
Data Cleansing & Analytics – We will analyze and clean your current database to relieve the stress caused by duplicate, and out of date information that is causing inefficiencies within your organization.
Data Hygiene Process Training – We will train your staff on how to properly maintain your database so that the processes that the entire company uses are sound in relation to maintaining a clean and accurate database of information.
Contact us about our services below:
Faster growth, happier reps and clients
Inbound Service and Sales Support
At many large firms, there is an ever present need to decrease customer queue times, maintain high levels of customer satisfaction, and maximizing responsiveness to inbound traffic from a sales perspective, so that no lead is left behind. Outsourcing this support while staying on budget and keeping the calls on US soil can present significant challenges. We can help.
Acceleration One has experience building processes and leveraging up to date phone and chat technology with large companies to provide a team of experienced sales or service representatives that act as white labeled members of your team. This call team is available "On Demand" or over longer periods of time to assure that your customers and/or potential prospects don't have to wait to get the help they deserve
Advisor Recruitment Services
While you have a team of recruiters that work for you, there is a vast ocean of growing advisors out there, and seemingly never enough of a full pipeline to grow at the rate you need with the right books of business.
We know how financial advisors think, because we have been in their shoes. We have generated thousands of appointments with advisors that are looking to possibly make a career move. We can work with your team to call on your behalf, and get your recruiters closing deals with 75% of their time, instead of trying to open them.
Outbound Telemarketing Services
Leads fuel your growth. Generating leads in the employee benefits business is tough. The buyers are inert and the product is technical. You need a specialist.
We know that there are a limitless number of horror stories out there about lead generation firms that simply have a hard time producing appointments that actually work. Our approach is built on QUALITY over QUANTITY. We exclusively partner with a select group of retirement providers and practices.
We do not hire low cost telemarketers. Our lead generation provides our clients with a dedicated, highly trained team of experts that know the employee benefits businesses. Our associates work closely with you to bring your story alive and continually improve the targeting of leads. We utilize our proprietary database of unique data to procure specific date and time appointments with prospects that fit your model.
Learn more about our lead generation service here.
Contact us about our services below:
High energy education on proven ideas that impact growth
At Acceleration One, part of the reason we are successful in this industry, is because we truly love what we do. We enjoy bringing real-world training and education to the advisor community by focusing on sales and marketing ideas that are often not addressed at many of the events and conferences we have been to over the years.
The fact of the matter is that advisors simply don't have enough partners or mentors in the business that are truly willing to spend the time to share their secrets of how they have grown to be so successful. It is difficult for those successful groups to get into the gritty details of the model that they have running underneath the foundations of their practice.
When we speak, we turn heads because the material has been proven to work over many years. The real world applicability, attention to detail and inclusion of new spins on easy-to-grasp concepts is vital to making sure that when our speaking engagement is over, the surveys come back very positive.
Contact us about our services below:
Interesting content delivered on time
Polished materials and well written emails, blogs, articles, and white papers are more prevalent today than ever. Where 10 years ago, many provider's marketing staff was ahead of the curve, today it feels as if they have a hand tied behind their back. Some feel they are not even in the race at all because their marketing team is focused on another part of the company, and their division is left in the wake of a marketing machine that helps when it can, which never seems to be often enough.
Acceleration One has a staff of industry experts, that can do the dirty work for your group that is researching and writing white papers, emails, blogs, and social media posts so that you look like the hero, and your sales can effectively flourish based on unique content that stimulates readers more than the average piece.
While no marketing piece has ever made a sale, having professionally polished and customized materials creates a great first impression. One of the values to our services is the inherent knowledge of the institutional marketplace that we have. So many other marketing firms that our clients have worked with in the past are proficient at the development of content, but have to be taught about what sells in this space, which takes time that you simply shouldn't be having to spend. We know how to make a positive impact, what language your prospects are looking for, and more importantly how to think and act differently than your competition.
Contact us about our services below: