Click on a service to learn more:
We have worked with hundreds of different practices, from advisors at large banks and wire-houses, to individual RIA practices to provide customized sales and marketing strategy consulting.
Our executive team has worked with many consultants over the years. We have often found that the majority of "consultants" in our industry leave behind an extensive document to call out existing in-efficiencies that you were likely already aware of, along with a short narrative on how to resolve those issues. We believe in working along-side your practice over time to not only identify where inefficiencies exist, but more importantly assist you in the ongoing execution of real world solutions based on proven results.
Achieving your desired level of consistent and predictable sales in the institutional marketplace is rarely about working harder, but working smarter. We can help you get there in an accelerated manner.
Request a service below:
Internal efficiencies. Organized systems allow for maximum execution.
Your CRM should be the foundation of your business. It is the vehicle that drives your organization and your execution strategy on an ongoing basis. We have found that a number of our clients of all sizes have found our demonstration of what most advisors are able to have very helpful, so they can "know what they don't know" about what is possible.
CRM is often failing to function to capacity largely due to improper design and implementation by a company that does not fully understand the retirement plan industry. Maximum efficiency is created by owning clean data, easy to access reports, simple to read dashboards, and an intelligently designed process that allows your entire organization to communicate effectively, and bring in more business in an accelerated timeframe.
General Benefits of an optimized CRM:
•   Protection of data
•   Ease of use
•   Accurate reports (w/ forecasting)
•   Allows for multiple users to promote data sharing
•   Increased sales sophistication
•   Increase efficiencies
•   Potential future integration with other business units
•   Effective client management
Acceleration One has a staff internally with an expertise in many different CRM systems, and specializes in working with the following: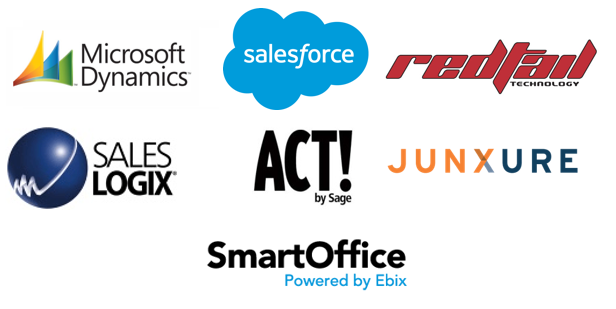 Request a service below:
Clean & accurate non public data = competitive advantage
This business is not about chasing a lot of prospects; it's about chasing the right ones. While everyone else was using the same stale public data, we leveraged our knowledge from 25+ years of spearheading lead generation at Fidelity and our current business, and built the best prospect database in the country.
After spending many years on the corporate side of high volume 401k sales, we have a wealth of knowledge and understanding the importance of data in the financial services, retirement plan, and payroll marketplaces.
Key database services provided:
Prospect List Development – We can use our database to create an accurate list of prospects and contacts (with emails) to utilize for marketing to more effectively acquire new business.
Data Cleansing & Analytics – We will analyze and clean your current database to relieve the stress caused by duplicate, and out of date information that is causing inefficiencies within your organization.
Data Hygiene Process Training – We will train your staff on how to properly maintain your database so that the processes that the entire company uses are sound in relation to maintaining a clean and accurate database of information.
Request a service below:
Full and robust pipeline for growth
Leads fuel your growth. Generating quality leads in the employee benefits business is tough. The buyers are inert and the product is technical. You need a specialist.
We know that there are a limitless number of horror stories out there about lead generation firms that simply have a hard time producing appointments that actually work. Our approach is built on QUALITY over QUANTITY. We exclusively partner with a select group of retirement providers and practices.
We do not hire low cost telemarketers. Our lead generation provides our clients with a dedicated, highly trained team of experts that know the employee benefits businesses. Our associates work closely with you to bring your story alive and continually improve the targeting of leads. We utilize our proprietary database of unique data to procure specific date and time appointments with prospects that fit your model.
While most of our lead generation business comes from working directly with plan sponsors on behalf of advisors, banks, payroll companies and providers, we also have expertise in working with other types of entities that may have an interest in having quality outbound calls made by a higher-grade associate.
Learn more about our lead generation service here.
Request a service below:
Become connected and engaging

Acceleration One has a staff of industry experts, that can do the dirty work for your group that is researching and writing white papers, emails, blogs, and social media posts so that you look like the hero, and your sales can effectively flourish based on unique content that stimulates readers more than the average piece.
Request a service below:
Create a great first impression

Polished materials and well written emails, blogs, articles, and white papers are more prevalent today than ever. Where 10 years ago, many advisors that were writing content were seen as being ahead of the curve, today they feel like one of the pack. There is a possibility many feel like they are not even in the race at all because they have no marketing team or person to help support them, and are trying to write on their own.
While no presentation has ever made a sale, having professionally polished and customized materials creates a great first impression. We have an expert internal marketing staff that will assure that your materials (brochures, pitchbooks, email / mail campaigns, websites, etc.) match the look and feel that we know works in this market, as you originally intended when you started your business
One of the values to our services is the inherent knowledge of the institutional marketplace that we have. So many other marketing firms that our clients have worked with in the past are proficient at the development of materials, but have to be taught about what sells in this space, which takes time that you simply shouldn't be having to spend. We know how to make a positive impact, what language your prospects are looking for, and more importantly how to think and act differently than your competition.
Sample materials:
Brochure | Pitchbook | Emails | Website Development | Direct Mail
Request a service below: